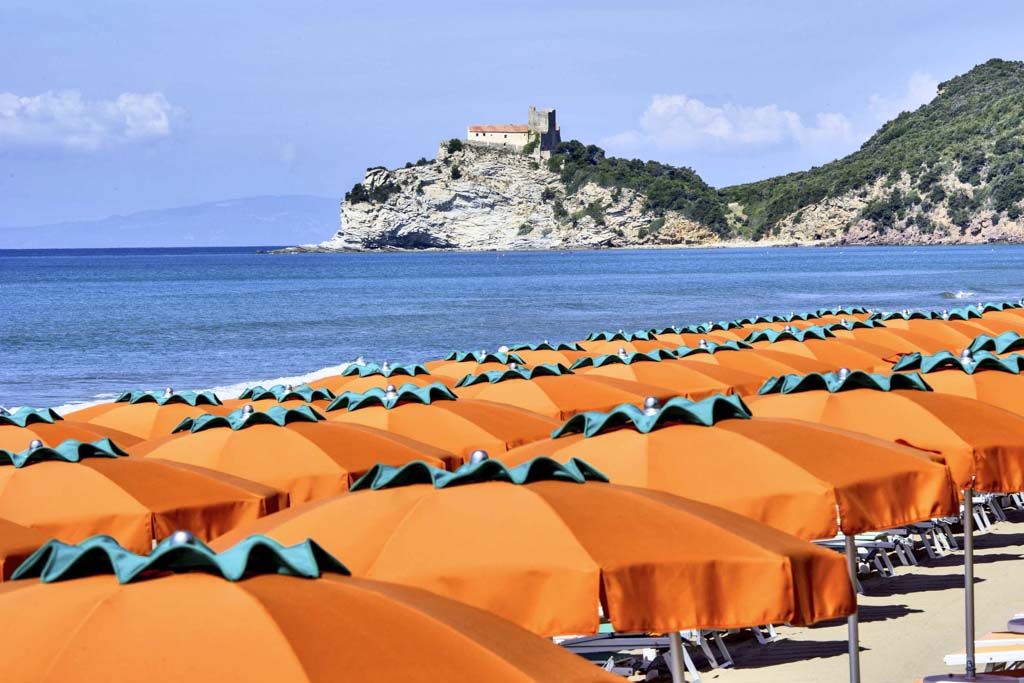 12 Jan

Rocchette beach
An enchanting beach between Punta Ala and Castiglione della Pescaia
Known as one of the most charming beaches of Tuscany, Rocchette Beach is situated south of Punta Ala and about 7 km north from Castiglione della Pescaia. Le Rocchette is accessible from the pine forest or from the campsites of the area, some of which have direct access to the sea.
History of Le Rocchette
Rocchette was named after an austere castle overlooking the cliff above the sea. The castle, which dates back to the 12th century, was originally a church attached to the Saint Antimo Abbey. After a period of neglect, in the 16th century the castle was fortified and today still preserve its imposing appearance.
Le Rocchette cliffs
Le Rocchette Beach offers a variety of landscapes that will amaze you beyond all expectations. The north part of this corner of Maremma is rocky, with many hidden coves that can be reached only by sea. This area is suitable for diving or snorkeling lovers who will find in rocky sea bottoms at the foot of the castle, inhabited caves of beautiful fishes, shellfishes and marine vegetation.
Le Rocchette: wide, accessible beach with a breathtaking sea view
From the first rocky stretch Le Rocchette runs on the southern side of the promontory of Punta Capezzòlo (near Castiglione della Pescaia). A beautiful, wide beach with golden sand surrounded by a dense pine forest with free beaches and exclusive and well equipped private beaches. Crystal clear water overwhelms sandstone rocks. The sea bottom is sandy surrounded by small rocks with an amazing variety of fish species and marine vegetation.
How to get to Le Rocchette beach
Le Rocchette is accessible from the SP158 Collacchie, which leads to Grosseto Follonica. It is located about 10 km north of Marina di Grosseto and 22 Km south of Follonica. From the south, however, Le Rocchette is accessible from SP3 Strada del Padule and separate from Grosseto about 20 km.
May also be interested ...