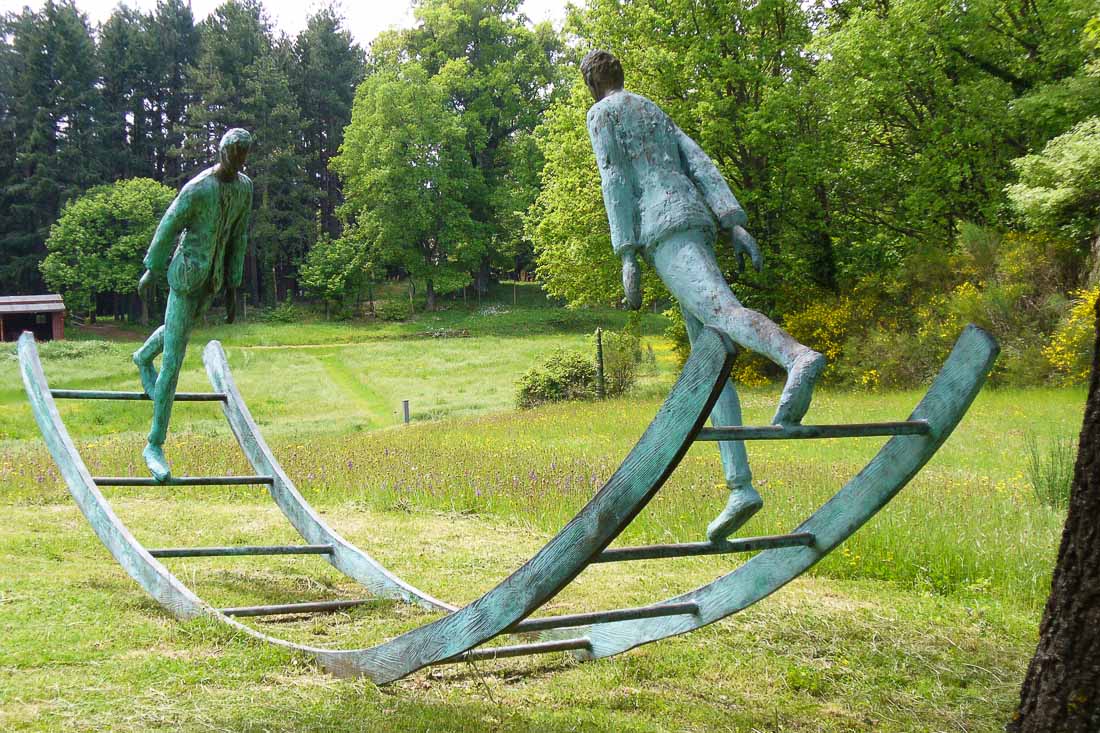 12 Jan

The Daniel Spoerri Garden

This amazing garden is named after Daniel Spoerri, a Swiss artist born in Romania. Choreographer, dancer, painter and sculptor during the Nazi era, Spoerri has created a large and enchanting sculpture park in Maremma opened for public in 1997. This area is outside the charming village of Seggiano, in Alta Val d'Orcia, just an hour from Grosseto.
The Garden
By now there are in the Daniel Spoerri Garden installations of about 50 artists in an area of about 20 hectares, all perfectly integrated with the environment. An articulate path where is it also possible to cruise admiring the works in a dreamlike atmosphere.
Some of the Garden's sculptures
In the Daniel Spoerri Garden we can admire the origami iron by the Japanese Kimitake Sato, the installation The Warriors of the same Spoerri in which four bronze soldiers are sleeping in a pond; Dummies (always of Spoerri), or seven bronze figures that recall the imaginative figures of Mirò; Dies irae – Jour de Colere by Olivier Estoppey: a truly gorgeous sculpture featuring 160 stone ducks marching their way towards Seggiano at the beat of three colossal Drummer Men.
How to get to Daniel Spoerri Garden
Coming from Grosseto direction Siena take after 20 km the SP64 at Cipressino, turn right towards Paganico/ Monte Amiata and stay on this road until you arrive at Castel del Piano. Follow the direction to Seggiano. Before arriving at Seggiano turn right (direction Pescina). The entrance to the park is 600 mt. on the left.
Hopening Hours
1st April – 1st July Tue – Sun : 11a.m. to 8p.m.
1st July – 15th September: daily : 11a.m. to 8p.m.
15th September – 31st October Tue – Sun : 11a.m. to 7p.m.
1st November – end of March by appointment only
Tickets
Full price € 10,00
Reduced (children, students) € 8,00
Children under 8 years: free
Contacts
Tel. + 39 0564 950 026
e-mail: info@danielspoerri.org
May also be interested ...